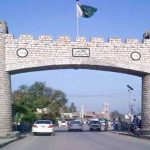 PESHAWAR: Provincial President of Qaumi Watan Party (QWP) Sikander Sherpao has said that Pakistan Tehreek-e-Insaf (PTI) formed government in Khyber Pakhtunkhwa in the name of change; however, it seems that the province is heading to backwardness.
Addressing a press conference in Peshawar on Monday, Sherpao said that PTI had announced reforms in Khyber Pakhtunkhwa but the people have not seen any change in five years.
Not a single hospital has been established in Khyber Pakhtunkhwa, said Sherpao and added that condition of the present hospitals in the province was not improved.
The QWP leader said that they (PTI) are ineligible and cannot face the assembly recalling that it failed to convene session of the provincial assembly in the past two months.
Quoting a report of United Nations Development Programme (UNDP), Sherpao said that Khyber Pakhtunkhwa was backward than other provinces of the country.