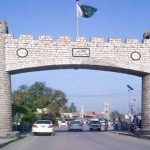 RAWALPINDI: Chief of Army Staff (COAS) General Qamar Javed Bajwa on Thursday said that we shall always come up to the expectations of the people of Pakistan who are real strength of the country's armed forces.
In a statement issued by the Inter-Services Public Relations (ISPR), the COAS visited School of Infantry and Tactics and Headquarters Southern Command in Quetta.
During his visit to the school, General Qamar Javed Bajwa met with the faculty.
On the occasion, the COAS was briefed about security situation of the province, pursuance of the National Action Plan (NAP), the Operation Raddul Fasaad and socio-economic development projects undertaken as part of the Khushal Balochistan Program.
Addressing the meeting, Gen Bajwa said that Pakistan army has played an important role for reduction in the internal security threats as well as effective response along borders.
He went on to say that the nation acknowledges and fully supports Pakistan army's contributions in our fight against terrorism and militancy.
The Army Chief said that Balochistan is the future of Pakistan and it is our duty to fully assist the government and the people of Balochistan towards a shining future.