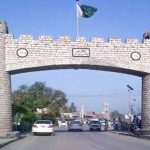 SWABI— Imran Khan, chairman Pakistan Tehreek-e-Insaf (PTI), has reiterated 'foreign conspiracy' claim against him, saying "we will never accept these thieves and slaves at any cost and we only want elections." People of the Khyber Pakhtunkhwa are more loyal and honest.
Addressing a huge jalsa in Swabi, he said that during the previous regimes of Asif Ali Zardari, Nawaz Sharif, and Fazlur Rehman the US had conducted over 400 drone strikes on Pakistan, adding that the previous rulers did not have the courage to speak against the US. He said that neither Zardari nor Nawaz ever criticised US over drone strikes.
PTI Chairman Imran Khan has asked people to brace for a "power show" in the capital Islamabad for which the date is yet to be announced.
Addressing the public gathering in Sawabi on Monday, his seventh in the span of 11 days as he piles up the pressure on the coalition government to call early elections, the former prime minister said that he will announce the date after May 20 with the Islamabad protest expected to be in the last week of May.
In previous addresses, he has also spoken at length about the "foreign conspiracy" to oust him from power through the no-confidence vote. There was only one loota from the whole Khyber Pakhtunkhwa. That is why respect the people of Khyber Pakhtunkhwa, they are more loyal and honest, said Imran Khan.
Addressing a public gathering in Faislabad on Sunday, the PTI chairman said that a "conspiracy" was being hatched to assassinate him. "The conspiracy was hatched in the US and the Mir Jafars and Mir Sadiqs in the country supported the foreign conspiracy."
In his today's address, the ousted premier said when he would give a call then the people of Sawabi should march toward Islamabad, adding that those who could not join the 'Long March' should protest in Sawabi against the 'imported government'.
He said that Shehbaz Sharif was not the prime minister but was a 'crime minister'. "He [Shehbaz] is on bail in the criminal cases against him," The PTI chairman added.
The former prime minister said that he would never accept the government of dacoits and plunderers, adding that three 'stooges' ruled over the country for more than a decade.
Imran Khan said that Pakistan had become the party in the US war on terror but no one thanked the country for its contribution and sacrifices, adding that instead of acknowledging sacrifices, the US blames Pakistan for its failures in the Afghan war.
The PTI chairman said that neither Zardari nor Nawaz ever criticised the US over drone strikes.
"These people would never raise their voices for the people of Pakistan because they are the slaves of the West and worship money more than anything else," he said.
The former premier said that the US knew that Imran Khan would never let them mistreat the people of Pakistan, therefore, they have imposed this "imported government".