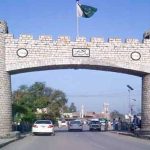 JHELUM: The supreme leader of the PML-N Nawaz Sharif Monday said that the people would not allow Imran Khan to rise to power through backdoor as he has no principles.
The former prime minister was addressing a rally here. He asked the people about Imran Khan's empire and said that the PTI voted for the PPP's candidate in Senate elections on the order from the top. He said that now the empire would not decide, but the vote of the people.
Calling the Pakistan Tehreek-e-Insaf (PTI) chief the most coward man, he lamented that Imran, who had once said that he would never form an alliance with Pakistan Peoples Party (PPP) Co-Chairman Asif Ali Zardari, was in cahoots with the latter.
He said that the Sindh and KP government failed to deliver, asking the ruling parties in two provinces to see the development in Punjab.
He said that he would not give anyone a chance to disrespect the vote 'again'. He said that he was disqualified for life over an iqama and now efforts were being made to send him to jail.
"A prime minister who sincerely serves the country has never been able to hold their office," Nawaz said
The PML-N supremo and daughter have been addressing rallies across the country as part of their 'respect the vote' campaign following Nawaz's disqualification by the Supreme Court last year.