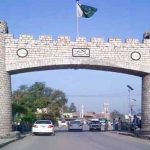 ISLAMABAD: An accountability court on Monday indicted seven people, including former prime minister Raja Pervaiz Ashraf and ex-law minister Babar Awan, in the Nandipur Power Project reference filed by the National Accountability Bureau (NAB).
Judge Arshad Malik announced the decision at a hearing that was attended by both senior politicians. Along with five other accused, Ashraf of the Pakistan Peoples Party (PPP) and Awan of the Pakistan Tehreek-e-Insaf (PTI) pleaded not guilty.
The court conveyed its decision to commence a trial and issued summons to witnesses.
The reference against seven politicians and government officials was filed in September last year. The accused are ex-PM Ashraf, Awan, former law secretaries Muhammad Masood Chishti and Justice (retd) Riaz Kiyani, ex-research consultant for the law ministry Shamila Mahmood, ex-senior joint secretary of the law ministry Dr Riaz Mahmood, and ex-secretary of the water and power ministry Shahid Rafi.
In the reference, NAB contended that the project located in Gujranwala had been delayed for two years, one month and 15 days, causing a loss of Rs27.3billion to the national exchequer.
The anti-graft body maintained that the project was not completed on time because the accused failed to issue their legal opinions.
It said the Supreme Court had earlier decided constitutional petition No 67 of 2011 – which pertained to delays in the Nandipur project – and formed a commission under Justice (Retd) Rehmat Hussain Jafri to ascertain reasons for the persistent delay.
The report submitted on April 9, 2012 held the accused responsible and the SC then referred the matter to NAB.
The Nandipur Power Project was approved by the Economic Coordination Committee (ECC) on December 27, 2007, at an estimated cost of $329 million.
A contract was then signed on January 28, 2008, between the Northern Power Generation Company Limited (NPGCL) and the Dong Fang Electric Corporation (DEC) from China.