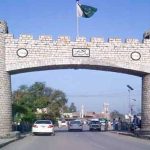 NOWSHERA: Pakistan Tehreek-i-Insaf (PTI) candidate Pervaiz Khattak has won election from Khyber Pakhtunkhwa Assembly constituency PK-64 Nowshera -IV by securing 38,234 votes.
According to unofficial results announced by the Election Commission of Pakistan (ECP), Awami National Party (ANP) candidate Muhammad Shahid stood second by getting 16,555 votes.
The third position was grabbed by Pervaiz Khan Khattak of Mutahidda Majlis-i-Ammal Pakistan with 11,768 votes.
Voter turnout was recorded at 51.58%.
Pervaiz Khattak has served as the Chief Minister of Khyber Pakhtunkhwa during the previous government led by PTI.