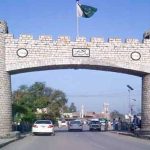 Federal Defence Minister Pervez Khattak on Tuesday issued a clarification regarding his earlier statement on the Sialkot lynching and said that he "vehemently condemns" the incident because "Islam does not allow the killing of humans, irrespective of their religious beliefs."
In a video message, the minister said that his earlier statement has been doing the rounds on media so he would like to issue a clarification in this regard.
"I was asked whether the Sialkot lynching occurred because of the deal between the government and the Tehreek-i-Labbaik Pakistan (TLP), and in response, I had said that no political party or the government should be associated with the incident."
"Those involved in the incident acted on their own, and did something wrong," he said, adding that the government is trying its best to punish the culprits in a way so as to make an example out of them in Pakistan.
Last week, A Sri Lankan national, working as a manager at a private factory on Wazirabad Road in Sialkot, was tortured to death by a mob over allegations of blasphemy.
When asked what the government is doing to prevent such incidents from recurring, Khattak said that the government has, so far, arrested all those involved in the incident.
"Others involved in the incident, who are at large, are being traced, and the government will ensure that they receive the strictest possible punishment."
What had Khattak earlier said?
It should be recalled that on Sunday, Khattak had said that "murders take place when emotions run high in young people."