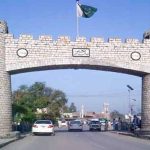 ISLAMABAD: Former Information Minister Pervez Rashid on Tuesday stated that he was ousted even before emergence of joint investigation team s report on Dawn Leaks issue.
He was talking to media in Islamabad. On question about making report of Dawn Leaks public, Rashid nod his head in the affirmative stating that it would help him in understanding the grounds on which he was dismissed.
Earlier, Rashid had claimed that through all the controversies including 'whatsapps' and the 'JITs', 'interior' remained unchanged.
Pervaiz Rashid, the former minister was sacked in October last year after a probe into a story of an English daily that reported of an alleged confrontation between the civil and military leadership in a National Security Committee (NSC) meeting over alleged harbouring of terrorists.
Former principal information officer Rao Tehsin Ali and ex-special assistant to the PM Tariq Fatemi were also sacked.
Both the government as well as the military denied the news and a committee was set up to look into the reportage.
The daily and the journalist were referred to All Pakistan Newspapers Society for disciplinary action whereas three of the government officials were sacked on the other hand.