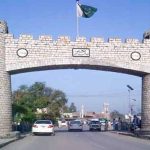 ISLAMABAD: Pakistan Muslim League-Nawaz (PML-N) leader Pervez Rashid on Thursday has assured to remain with his quaid Nawaz Sharif in every situation at any cost.
Pervez Rashid responded to the interview of former interior minister Chaudhry Nisar and said that he is happy to come along with Nawaz Sharif in accountability court. Its a duty of party member to not leave his leader in difficult situation, he added.
In a statement, Pervez Rashid demanded to make report on Dawn Leaks public to clear everything regarding the issue.
Earlier, Chaudhry Nisar had warned that if the process of negative messages from the party [PML-N] was not stopped, he would not remain silent anymore.
On a question about possible imprisonment of PML-N supreme leader Nawaz Sharif, Nisar responded that party would suffer irreparable damage in any such scenario.
He also categorically dismissed rumors pertaining to contacts with Pakistan Tehreek-e-Insaf (PTI).
"Neither PTI nor Imran Khan had made any contact with me. I have been in party since 34 years", asserted Nisar while adding, "Whether it is PML-N or PML-Sheen, both are acceptable to me".