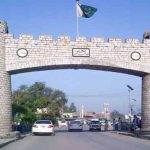 PESHAWAR: On the directives of the provincial government, District administration Karak conducted raids quacks, unregistered clinics and medical stores in Karak City and Latambar.
Assistant Commissioner (AC), Abdullah Mahmood and Drug Inspectors Irfan Aziz and Mohammad Saleem conducted raids on six clinics and medical stores in Karak city and Latambar and sealed three of them. Similarly, the administration has sent dispatch to Police Station Latambar for registration of case against quack, who failed to present his credentials as doctor.
Speaking on the occasion, the Assistant Commissioner, Abdullah Mahmood warned that raids against non-professional doctors will continue at the same pace and no quack will be allowed to play with the human lives.