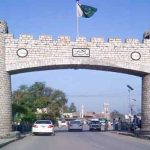 PESHAWAR: Anti-Terrorism Court (ATC) in Peshawar has granted bail to Bashir who had been arrested for having links with Islamic State of Iraq and Syria (ISIS) by the Counter Terrorism Department (CTD) three months back.
The ATC heard the case of Bashir, a resident of Habibabad area of Peshawar, in which the accused's lawyer Naeem Bukhari advocate presented his arguments.
Naeem Bukhari argued that the law enforcement agencies could not prove the allegations leveled against his client in three months saying that the allegations included providing aid to ISIS militants in Arsalan Flour Mills and meting out treatment to ISIS injured militants.
Upon this, the ATC granted bail to Bashir.