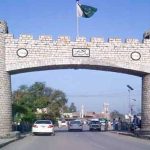 PESHAWAR: A sudden surge has been recorded in the Covid-19 positivity in Peshawar as it has reached 16 per cent per day followed by five per cent in Nowshera and Kohat districts.
As per official of the Health Department said that along with the overall positivity ratio there is an increase in the number of Omicron cases too as on Friday 75 new cases were reported.
"Out of the total 75 cases reported from the province, 45 were reported from Peshawar district alone," he said, adding that from Mardan district seven cases, from Nowshera five cases, Charsadda one, Haripur one, Malakand one, Swabi eight new cases, and from Chitral two new cases have been reported.
"Out of the 75 infected patients 41 are men and 34 are women aged between 11 to 63 years," he said, adding that in Abbotabad and Chitral Lower the positivity ratio has been recorded at 5.5 per cent.
The K-P Health Minister Taimur Saleem Jharga has said that the Health Department has been completely alert to deal with the fifth wave of the Covid-19 and all the staff has also been put on alert under the health emergency.
He appealed to general public to strictly follow Covid-19 related standard operating procedures (SOPs) for their own safety.