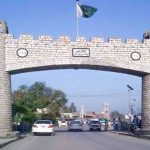 PESHAWAR: The construction of Peshawar-DI Khan Expressway is likely to hit further delay due to the shortage of funds and the Khyber Pakhtunkhwa government's failure to include the mega project in the multibillion-dollar China-Pakistan Economic Corridor (CPEC) initiative.
The Provincial Development Working Party (CDWP) had approved the 360 kilometers Peshawar-Dera Ismail Khan Expressway in September 2021 for the socio-economic development of the neglected southern districts of the province.
The Khyber Pakhtunkhwa government report submitted to the provincial assembly revealed that the federal government has refused to include the Peshawar-Dera Ismail Khan expressway in CPEC.
In order to complete the project from private partnership, the Khyber-Pakhtunkhwa Public Private Partnership Committee, later, approved the financial feasibility for Peshawar- DI Khan Expressway on public private partnership mode and approached to Asian Development Bank for funds. The report, however, says that Asian Development Bank showed no interest in the project.
The KP government has not allotted any funds for the project, so the project won't get started until funds are allocated for it.
The project, which has directly and indirectly connected the whole southern districts of the province with Peshawar and rest of the province, is crucial in order to prevent the frequent accidents on highway known as dead highway.