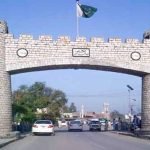 PESHAWAR: A local court in Peshawar ordered registering a First Information Report (FIR) against the organisers of this year's Aurat March in Islamabad on Friday.
The decision was taken after an additional sessions court heard a petition against the organisers for allegedly committing un-Islamic acts in the name of the women's march.
Religious groups held demonstrations in several cities to demand that the government prosecute the march organisers for blasphemy, and they threatened vigilante action. Messages spread on social media, in some cases shared by journalists and politicians with millions of followers, included false allegations that the French flag was waved at the Women's Day march, while doctored video and audio showed participants chanting slogans viewed as blasphemous against Islamic figures.
'Malicious campaign'
"Each and every one of these allegations are completely false and part of a malicious campaign to silence women from speaking out about their rights," the Aurat March organisers said in a statement.
The Women's Democratic Front, a leftist group founded in 2018 and one of the organisers of the march, said their flag – with red, white and purple stripes – had been misrepresented as the French flag, which has blue, white and red stripes.