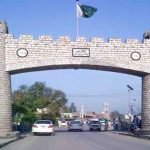 PESHAWAR: Nanbais (bakers) have demanded the district administration to increase roti price by Rs5.
Importantly, the representatives of the nanbai association have given a deadline till November 5 for the acceptance of their demand and warned if that didn't happen, they would increase price on their own.
Some nanbais said the rate of a 85kg flour bag has gone up to Rs5,200, so they couldn't afford to follow the official roti price list.
"The roti, whose weight will be 150gm, will sell at Rs15," they said, adding that the recent hike in prices of flour was not affordable.