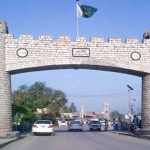 PESHAWAR: Nanbais of Peshawar went on a strike on Monday in a bid to force the government to issue a new rate list after the increase in the prices of wheat.
General Secretary Nanbais Association of Peshawar Abdul Majeed Qureshi said that the protest would continue till the government accepted their demands.
Qureshi shared that rumours were circulating that the government was planning to launch a crackdown against them. He clarified that the government had made them jobless and the crackdown would not deter them from demanding their legitimate rights.
The association's general secretary claimed that the district administration asked the nanbais to open their businesses and allegedly assured them no action would be taken against them for selling a 100-gram roti for Rs10.
"It is very strange that the Peshawar district administration refused to accept when we demanded issuance of notification of 115-gram roti for Rs10," Qureshi said.
He warned that their strike would spread to the entire province if the government did not grant their demands. The district administration officials could not be contacted despite several attempts to seek their version of the events.
However, representatives of the Nanbais Association and the district administration officials did hold talks with each other, but there could be no breakthrough.
Following the strike, the miseries of Peshawar residents multiplied as they also faced acute gas and electricity loadshedding and could not prepare roti at home.
Safiullah, a resident of the Ring Road, said that people bought roti from the market due to gas loadshedding in their locality but the strike had added to their woes.
"We are compelled to either buy roti at inflated prices or cook it using firewood," he complained. A nanbai, Muslim Khan, said that they could not sell roti for Rs10 because of the sudden increase in flour prices.
He said that it was not only the flour price that had gone up but their utility bills had also increased manifold during the last few months. "Even if the flour price had not increased, selling roti for Rs10 caused a loss to us," he argued.