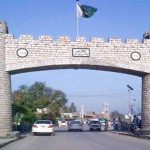 PESHAWAR: Peshawar police on Friday raided an illegal printing press in Peshawar and arrested three members of a gang for printing fake Pakistani currency notes.
According to Police sources, 160 million rupee fake notes of 5000, 1000 and 500 rupees were recovered from the spot.
The police sealed the den, took the fake currency, raw material into custody and after registering a case against the detainees started an investigation. Efforts are underway to arrest the remaining six members of the gang.