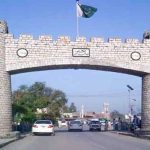 PESHAWAR: An inquiry committee, tasked to probe the matter of alleged sickness of children owing to polio drops, presented its report which stated that none of the child was adversely affected by the vaccination and the incident was a part of a planned conspiracy.
The Khyber Pakhtunkhwa government formed a committee to investigate the matter when nearly 40 children from a school in Mashokhel village were brought to a hospital with complaints of diarrhea, nausea and headache after being administered the anti-polio vaccine .
Babar Atta, the focal person to Prime Minister Imran Khan on polio eradication, posted the committee's report on Twitter which said: "All children were sent home in stable condition, while some children were kept for observation on the insistence of the parents. Not a single child was kept for overnight stay. The rumours started spreading on the social media created pandemonium in and around Peshawar."
The report further said that nine different batches of the polio vaccine were provided to KP and were "all provided in good condition to all districts of the province". Three different batches were provided to Peshawar and the same batches sent to Abbottabad, Nowshera, Tank, Kohat and all seven districts of Malakand. The cold chain was maintained and there was nothing wrong with the vaccines.
"The government collectively responded to the situation in a very organised and professional manner after attending the emergency and establishing this fact that it was a fake alarm. Later on, the media and government not only effectively countered the propaganda but also exposed it as well," the report appreciated.
The committee, based on evidences, facts, the circumstances, statements and discussions made with the concerned staff, is of the strong opinion that it was not a medical situation or emergency rather it was a pre-planned conspiracy against a national cause wherein Pakistan remains to be among the three unfortunate countries who have failed to eradicate polio. It seems certain opportunistic elements tried to sabotage the initiate of national importance, the report maintained.
The report also identified two fake doctors in UC Umar Bala — Misal Shah and Javed — who spread rumours about the immunisation campaign.
Peshawar was gripped in panic Monday morning as rumours spread like a wildfire that the anti-polio vaccine had caused children to fall ill and faint in several areas of the city.
It was reported that at least 700 schoolchildren fell sick after polio vaccination in Peshawar causing an attack on a hospital in city by an angry mob.