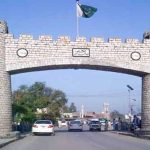 PESHAWAR: A key leader of Pakistan Tehreek-e-Insaf (PTI) in Peshawar abandoned his party and joined the rival Muslim League-Nawaz (PML-N).
Shahid Habib, a member of PTI's Central Executive Committee, announced the decision at a press conference along with senior PM-N leader Amir Muqam in Peshawar.
Shahid Habib was associated with Imran Khan's party for eight years.
Speaking on this occasion, Amir Muqam took a swipe at Imran Khan, saying that the PTI chairman would definitely put on a new Sherwani but not of Prime Minister Nawaz Sharif, but of his third marriage.
He said that Imran Khan had wasted time of state institutions by making false claims.
To a question, he said that nobody would come out in support of Bilawal Bhutto Zardari, advising the young PPP leader to refrain from making tall claims.