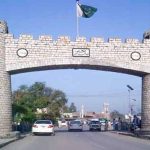 The Forensic Department of Khyber Medical College University has proposed a set of charges for its forensic services، Khyber News reported.
As per proposed plan, medical examination of rape victims will cost Rs25,000 and the charges for autopsy will be Rs5,000 for the local residents of Peshawar.
Furthermore, the charges for keeping dead bodies in the cold storage will be Rs1500 per 24 hours. For DNA testing Rs18,000 fixed charges have been suggested. The decision was taken in a meeting of the Management Committee held on February 14 in which 17 new charges were approved.
"We provide forensic facilities to the law enforcement agencies, courts and other departments which include autopsy, medico-legal examination, age estimation, toxicology and DNA analysis," an official of the department told media, adding that the decision to introduce 17 new charges was taken to meet the operational expenditures of the Forensic Department.
It is worth mentioning here that unclaimed bodies are sent to the Khyber Medical College University for cold storage by the local police where they are stored sometimes for months till their identification and retrieval by the family.
When contacted Dean Khyber Medical College University Dr Mehmood Aurangzeb said that the introduction of 17 new charges for forensic services was just a proposal discussed in the BoG meeting.
He said it was just an initial proposal and will only be implemented once the government gives the go-ahead.