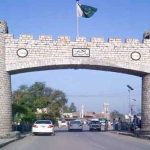 PESHAWAR: Residents of Tahkal area of Peshawar city on Tuesday took to street against district administration for inability to take adequate measures to prevent the spread of dengue in the area.
The protesters blocked the University Road for a short period and shouted slogans against district administration. They were opinion that dengue has become rampant in their area due to the inadequate measures by the district government. The tahkal was the most affected area of the dengue last year too, they said.
They further said that hundreds of people in the area become victims of the dengue.
According to reports, at least five people were died and 291 others were diagnosed with dengue fevers.
The protesters said that if government didn't take proper prevention measure, they dengue cases will spike in the area.
When contacted, the district Deputy Commissioner Saqib Raza confirmed said that one person was killed and 205 others were diagnosed with dengue fevers in Peshawar.