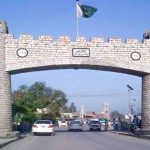 PESHAWAR: Death toll from Peshawar Police Lines' deadly suicide bombing climbed to 100 as five more injured were succumbed to their wounds during the course of treatment.
According to Spokesperson of Lady Reading Hospital Muhammad Asim, currently 53 injured people are being treated in the hospital. Seven of them are admitted in the Intense Care Unit (ICU). Majority of the injured are out of danger.
Meanwhile, the preliminary investigation report of the suicide attack has been submitted to Prime Minister Shehbaz Sharif.
The report states that the evidence of the suicide attack has been found at the crime scene.
Meanwhile, Counter Terrorism Department (CTD) has obtained the footage of surrounding closed circuit television (CCTV) cameras.
While briefing the media on the attack, KP Police Inspector General (IG) Moazzam Jah Ansari said that the attacker brought the explosive material to the Police Lines in small amounts over time, as construction work was ongoing at the site.
The attacker later detonated the explosives, estimated to weigh between 10-12 kgs, using a suicide jacket; he added.
He said that most of the deaths were caused because people remained stuck under the debris for a long time.
IG said that the checking was carried out at the gate of Police Lines, adding that there was a lapse somewhere.
The explosion took place at a time when worshipers had gathered in the mosque for the afternoon prayers. Witnesses and officials said that at least 200 people were inside the mosque when the incident took place.
The explosion was powerful enough to shatter window panes of nearby buildings and the blast was heard for areas relatively far away as well. It also caused a section of the mosque's façade and roof to collapse as well.