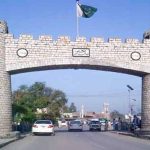 PESHAWAR: The traders and shopkeepers of Shuba Bazaar in Peshawar has threatened to stage a protest demonstration against the possible demolition of 42 shops by Cantonment board Peshawar.
While addressing a press conference here at Peshawar Press Club on Tuesday, the president of central coordination committee of traders Mujeeb-ur-Rehman said that since the shops were constructed on railway land and the shopkeepers had regularly been paying rent for them since 1960, the cantonment board had no legal authority to demolish these shops.
He accused that the board wanted to construct a plaza instead which was equivalent to their economic murder as hundreds of poor families were dependent on the income of these shops.
The traders have obtained stay order from the local court against demolition of the shops but they were still being destroyed which was clear violation of court order, he added.
The traders and shopkeepers demanded of Governor Khyber Pakhtunkhwa, Corps Commander Peshawar and other high officials to address their concerns in this connection or else they would be compelled to stage a protest demonstration for which officers of cantonment board would be responsible.