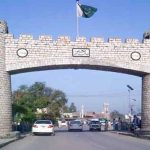 ISLAMABAD: A petition has been filed in Islamabad High Court (IHC) against the appointment of Absar Alam as Chairman of Pakistan Electronic Media Regulatory Authority (PEMRA).
The petition was filed by Barrister Shoaib Raza on behalf of Ahmad Qureshi.
The petitioner has nominated the Information Ministry, Chairman PEMRA and PEMRA's regulatory body as respondents in the case.
The petition stated that incumbent chairman Absar Alam has been unlawfully appointed on the position according to PEMRA ordinance 2002. The petitioner says that the appointment is contrary to the constitution. Prime Minister Nawaz Sharif has appointed Alam in an unjust manner, he added.
He pleaded to the court to outlaw the appointment of Absar Alam as the chief of the electronic media regulatory body.