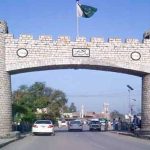 KARACHI:A petition seeking ban on Muttahida Qaumi Movement (MQM) has been filed in Sindh High Court today (Tuesday).
The plea was submitted by Molvi Iqbal Haider in which, the he demanded a case under the provisions of Terrorism Act and Pakistan Security Act against MQM.
He also urged the authorities to direct National Assembly Speaker, Senate Chairman and Sindh Assembly Speaker to send MQM parliamentarians' disqualification reference to Election Commission of Pakistan (ECP).
The claimant also said that all the members of MQM in National Assembly became victorious on Altaf Hussain's name, therefore, they all should be declared ineligible.
Earlier, a treason case against Muttahida Qaumi Movement (MQM) chief Altaf Hussain and other leaders for raising anti-Pakistan slogans was lodged.
Leaders and workers who chanted slogans and statements against the sovereignty of Pakistan during MQM hunger strike had also been named in the case.
On August 22, violent MQM workers clashed with police and surrounded the office of a private news channel in Karachi by taking down the gate of Madina Mall and broke the windows of the building.
The violence erupted soon after the powerful exiled leader of MQM chief Altaf Hussain, gave a telephone address to his supporters in which he castigated the media for not giving due coverage of his workers.