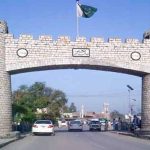 PESHAWAR: The Peshawar High Court (PHC) on Tuesday accepted appeals – challenging the verdict of an anti-terrorism court in Mashal Khan lynching case – for hearing.
A two-judge bench of PHC issued notices to all parties involved in the case on appeals filed by the Khyber Pakhtunkhwa government, Mashal's father and the convicts who were awarded jail terms by the trial court.
The bench, comprising Justice Qalandar Ali Khan and Justice Ishtiaq Ibrahim, directed the appellants whose conviction have temporarily been suspended to be in attendance at the next hearing.
Mashal, 23, a student at Abdul Wali Khan University (AWKU) in Mardan, was beaten and shot to death on April 13 last year by an unruly mob instigated by rumours that he had committed blasphemy by posting sacrilegious content online.