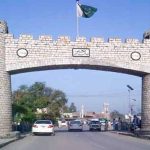 PESHAWAR: A Peshawar High Court bench on Friday directed the Khyber Pakhtunkhwa government to seek support from other provinces to control the current outbreak of the mosquito-borne disease in Peshawar and other areas.
A tow-member bench of PHC comprised of Justice Qaisar Rasheed and Justice Ijaz Anwar were hearing a petition of lawyer Saifullah Muhib Kakakhel against the alleged negligence of the provincial government towards the current dengue outbreak.
The court directed the provincial government to set up a special anti-dengue cell at the provincial level and provide the latest anti-dengue testing machines to all major hospitals to control the dengue outbreak.
Deputy Commissioner Peshawar and Secretary Health appeared in the court and apprised the bench of measures taken against the dengue outbreak. Deputy Commissioner told the court that according to the report of the federal institution, dengue cases decreased in the province due to the measures taken. He said that fumigation has been carried out in the affected areas.
The court observed that the province has suffered huge loss due to terrorism. The court remarked that the performance of health department was worst to counter dengue disease.
Further directing the government, the court ordered that the anti-dengue campaign should not remain only confine to Peshawar rather it should be expanded to other cities. IT was directed that public as well as media should be given access to information about the latest situation of the disease.
The bench ordered the provision of all relevant health facilities to dengue patients free of charge.