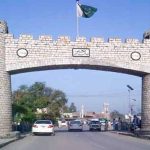 PESHAWAR: The Peshawar High Court (PHC) on Thursday heard a petition challenging the Khyber Pakhtunkhwa government's decision to announce Eid after "28 days of fasting".
The court issued notices to the governor and the chief minister, making them direct respondents to the petition.
The bench also sought a reply from the provincial government on the matter.
During the hearing, the judge also questioned Federal Minister for Science and Technology Fawad Chaudhry's "authority and expertise" over issuing an Islamic calendar.
In May, Fawad launched Pakistan's first moon sighting website.
Addressing the launching ceremony in Lahore, the minister said in his opinion Pakistan could do away with the traditional moon sighting methods used by the Ruet-e-Hilal Committee to end the moon sighting controversy on all important Islamic festivals.