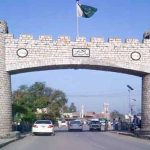 PESHAWAR: The Peshawar High Court (PHC) on Tuesday issued stay order against the Khyber Pakhtunkhwa government's termination order of former Managing Director Bank of Khyber (BoK) Shamsul Qayyum and sought reply from government.
Shamsul Qayyum had challenged the KP government's termination order against him in Peshawar High Court (PHC) on September 8.
A two-member bench of PHC comprised of Justice Rooh-ul-Amin and Justice Younus Theme heard the petition challenging the provincial government's orders. Shamsul Qayyum and Additional Advocate General appeared in the court.
In his petition to PHC, Qayyum maintained that the termination order issued by Khyber Pakhtunkhwa Finance Department was unconstitutional. Provincial Finance Minister, Cheif Secretary, and Secretary Finance are respondents in his petition.
The petitioner has stated that his services should be extended for two more years for his exceptional performance as MD Bank of Khyber.
The provincial government decided to relieve the BoK chief of his duties in a cabinet meeting. The BoK managing director was charged with breaching section seven of his employment contract by publishing advertisements and leveled baseless allegations against the provincial finance minister.
Qayyum had accused Finance Minister Muzaffar Said, of the Jamaat-e-Islami, of corruption and nepotism in a notice printed in a newspaper last year.
JI MPAs had signaled to quit the coalition government if the managing director was not changed.
The coalition party had expressed its concern over the provincial chief minister delaying the decision to remove BoK's managing director.