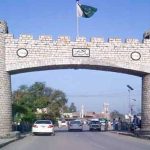 PESHAWAR: The Peshawar High Court (PHC) has been moved to invalidate the dissolution of the Khyber Pakhtunkhwa (KP) Assembly.
The PTI government had dissolved the KP Assembly as a means to exert pressure on the current government for general elections in the country.
Muhammad Furqan Qazi submitted a petition to the court through Advocate Muhib Kakakhel, asserting that the dissolution of the assembly was unlawful. It was claimed that former KP Chief Minister Mehmood Khan, under the instructions of PTI chairman Imran Khan, sent the dissolution summary to Governor KP Haji Ghulam Ali without proper consideration.
The plea further mentioned that Mr. Khan later stated that he had been directed by someone else to dissolve both the Punjab and KP assemblies. The petition requested the court to invalidate the dissolution notification on the grounds that the former KP Chief Minister had acted in violation of the constitution.
The petitioner also urged the court to instruct the ruling party to appoint a Chief Minister and provincial cabinet.