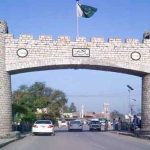 PESHAWAR: The Peshawar High Court (PHC) on Wednesday gave directives to the human rights directorate to oversee investigation into the brazen public humiliation of a girl in Dera Ismail Khan.
The decision came in the wake of Khyber-Pakhtunkhwa Inspector General of Police's assurance that full security would be given to the victim's family, as well as, a thorough probe be completed in this regard.
On October 27, a 16-year-old-girl was allegedly stripped naked and then paraded in a village near the remote town of Chodwan.
The two-member bench, comprising of Chief Justice Yahya Afridi and Justice Syed Afsar, was given the written response of the IGP.
This was done in view of a petition filed by the girl's mother, Maheen Bibi*, who urged the court to provide her family with speedy justice and security.
The KP police chief said a joint investigation team had been been formed in this regard.
Since eight out of the nine accused nominated in the FIR had already been arrested, he said efforts are being made to arrest another accused, named Sajawal, who is still at large.
While addressing the petitioner's request for security, the IGP said a five-member team had been deployed to the victim's house.
The police chief informed the court that a person who is accused of making the footage is also in police custody.
The victim through her mother filed a petition in the PHC which stated that she received threats from the accused. However, the police did not provide them with the necessary security.
She also prayed the court that the investigation be monitored, as well as, senior officials submitting a report.
She also told the court that Sajawal, who is the main accused and a government servant, is still an absconder and should be suspended immediately.
The lawyer of the petitioner, Qazi Muhammad Anwar, told the PHC that after the assurance of the police chief and the provincial government, the petitioner is satisfied.
"We are satisfied as whatever we have demanded has been addressed by the respondents," Anwar told the court.