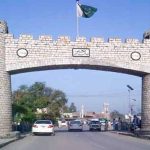 PESHAWAR: The Peshawar High Court (PHC) on Wednesday ordered the federal statistics department to include the Sikhism as a separate religion in its population census form in the second phase.
A two-member bench of PHC, comprising Chief Justice Yahya Afridi and Justice Ikramullah Khan, delivered the judgment after hearing a writ petition filed by the Sikh community on Tuesday.
A member of the statistics department, Habibullah, informed the court that the first phase of the census was already in process, therefore it would be difficult to add the Sikh religion to the forms immediately.
On hearing this, the court ordered that the necessary amendments to the form should be made in the second phase of the census.
Members of the Sikh community had held a protest demonstration in Peshawar on March 20 for being left out of the national census form. They had also appealed to the Supreme Court to order a resolution to the issue.
Holding banners and placards inscribed with their demands, the protesters had shouted slogans demanding the inclusion of a column in the census form for them.