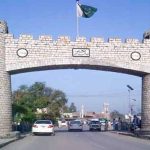 PESHAWAR: The Peshawar High Court (PHC) on Monday ordered the transfer of Mashal Khan murder case to an anti-terrorism court (ATC) in Peshawar from Abottabad ATC.
Chief Justice PHC approved the plea of Mashal's father who contended the case be transferred to Peshawar as they were getting threats from the influential suspects.
The PHC had also ordered last year in July to shift the case to the Abbottabad Anti-Terrorism Court from Mardan.