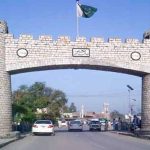 PESHAWAR: The Peshawar High Court on Wednesday served notices on Pakistan People's Party candidate from PK-76 Ziaullah Afridi and Pakistan Tehreek-e-Insaf (PTI) candidate Asif Khan in disqualification petitions.
The PHC bench comprising Chief Justice Waqar Ahmed Seth and Justice Musarrat Hilali while issuing the notice to Afridi adjourned hearing of the case until tomorrow.
Justice and Democratic Party's candidate Hayatullah Khan has filed petitions seeking the disqualification of PPP's Ziaullah and PTI's Asif Khan.
In his petition, Hayatullah has taken the stance that the PPP's candidate was wanted to Khyber Pakhtunkhwa Ehtisab Commission in a number of cases.
Regarding the PTI's candidate, the petitioner stated that Asif Khan was a district member and he had not tendered his resignation at the time of submitting nomination papers.