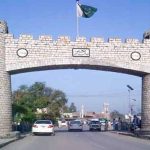 PESHAWAR: The Peshawar High Court (PHC) on Wednesday suspended detention orders of former provincial minister Anwar Zeb Khan and other Pakistan Tehreek-e-Insaf (PTI) workers under the Maintenance of Public Order.
A bench of the PHC, comprised of Justice Ishtiaq Ibrahim and Jusitce Sahibzada Asadullah heard a petition of five PTI workers including Anwar Zeb Khan, challenging their arrest warrants under MPO-3.
The court suspended the MPO order issued by Bajaur district administration.
The court restrained the administration from arrest of the accused under the MPO-3. The bench also ordered transfer of the case Mingora bench of the high court.
The court in its order also ordered petitioners to submit two lac rupees surety bonds each.
The court ordered petitioners to submit their statements on oath to the district administration that they will not take part in such activities in future.