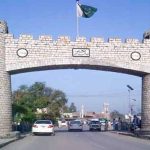 ABBOTTABAD: A bench of the Peshawar High Court (PHC) in Abbottabad suspended the conviction of 25 suspects in the Mashal Khan lynching case.
A two-judge bench on Tuesday gave the verdict on appeals filed by the suspects who were sentenced to three years imprisonment in the case by an anti-terrorism court (ATC).
The bench also ordered their release on bail.
The ATC had awarded death sentence to one suspect, 25 years imprisonment to five suspects, three years to 25 others and exonerated 26 suspects of their charges in the lynching case of Mashal Khan.
Mashal, 23, a student at Abdul Wali Khan University (AWKU) in Mardan, was beaten and shot to death on April 13 by an angry mob instigated by rumors that Mashal had committed blasphemy by posting sacrilegious content online.