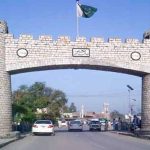 PESHAWAR: The Peshawar High Court suspended three civil and two additional and sessions judges on Friday for violating the judicial code of conduct.
The court has also ordered an inquiry into the matter.
The judges have been identified as Naeem Iqbal, Aurangzeb Khan, Jauhar Aijaz Ali, Shakeelur Rehman and Salma Irfan.
According to a notification issued by the court, the judges have been suspended for three months and, if the allegations against them are proven, their employment will be terminated.
If their employment is terminated, the judges will not be entitled to any of the benefits they would have otherwise received, such as a pension.