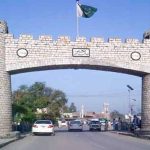 PESHAWAR: The Peshawar High Court (PHC) on Friday removed an Additional District and Session Judge, Nowshera on corruption charges and violating the code of conduct.
A notification issued by PHC administration said that disciplinary proceedings were initiated against Additional District and Session Judge Nowshera, Zahid Mehmood, under Khyber Pakhtunkhwa Government Servants (Efficiency and Discipline) Rule, 2011.
The accused officer was served the show cause notice and also heard in person and removed from services with immediate effect after the officer was found guilty of the accusations.
In October last year, The Peshawar High Court suspended three civil and two additional and sessions judges on Friday for violating the judicial code of conduct. The court has also ordered an inquiry into the matter.
Meanwhile, the District and Sessions Judge and other senior judges appointed for Bajaur have visited the under-construction judicial complex for the district in Khar, headquarter of Bajaur district.
The senior judge also visited the prison in the District and directed officials of the district administration to present completed details of the jail inmates and the crimes in which they are locked in the prison.
This was the first visit of the district and session judge Nasrullah Khan Gandapur and other judges to the district as they are working and hearing cases of Bajaur district at makeshift court in Timergarah city.
The judges inspected the building selected for establishing the judicial complex in Civil Colony in Khar. Additional District and Sessions Judge Mian Zahidullah Jan, Senior Civil Judge Iftikhar Ahmad and other officials accompanied the sessions judge during his visit to Khar, the headquarters of Bajaur district.
At the city, the Deputy Commissioner Usman Mahsud briefed the judges on the judicial complex in Bajaur. He informed the judge about the facilities to be provided to litigants, bar and bench and allied staff of the district judiciary.
The judges and officials of the district administration also visited the prison in Khar and listened to the problems of inmates. Sessions Judge Nasrullah Khan Gandapur directed the district administration officials to present the complete record of all the prisoners.