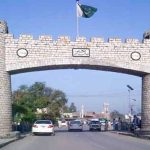 PESHAWAR: Peshawar High Court (PHC) Tuesday upheld Abbottabad circuit bench's decision regarding suspension of the three-year imprisonment to 25 people in the Mashal Khan lynching case.
An Anti-Terrorism Court (ATC), Haripur, had convicted shooter — Imran Ali — two death sentences, five persons multiple terms of life imprisonment, and 25 others jail sentences on February 7 in Mashal Khan, Mardan University's student, lynching case.
The PHC's Abbottabad circuit bench had suspended the multi-year sentences handed to the 25 on February 27. The the Khyber Pakhtunkhwa (KP) government and Mashal's family had filed review petitions against the Abbottabad circuit bench's decision.
A two-member bench of the high court, headed by Chief Justice Waqar Ahmed Seth, in a short order, rejected the petitions against the suspension of the sentences.
Mashal Khan, 23, a student of Mass Communications at Mardan's Abdul Wali Khan University, was beaten and shot to death on April 13, 2017 by his fellow students after he was falsely accused of blasphemy.