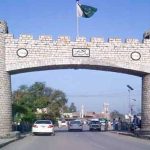 ISLAMABAD: A flight steward of Pakistan International Airlines (PIA) was arrested on Saturday after security officials recovered heroin from a flight attendant at the Paris airport, France.
The flight PK-749 arrived in Paris from Islamabad where the drug worth millions of rupees was recovered from the steward during checking. The authorities allowed the passengers and PIA staff to return after inspecting the plane.
According to PIA spokesperson, the French authorities have not given any details regarding the amount of drugs.
He confirmed that flight steward Tanveer Gulzar is under custody in Paris and has been suspended by PIA after initiating departmental inquiry against him. The suspect can also be dismissed from his post if found guilty by the French authorities.
It is uncertain whether the flight steward will be punished in France or is deported, he added.
The spokesperson said he was not sure whether the French authorities would punish him in their country or deport him.
However, he added, PIA would dismiss the accused flight attendant if charges levelled against him were proven.
It is pertinent to mention that this is not the first attempt to smuggle illegal drugs using similar means. The incident comes as several cases have emerged of narcotics being recovered from flights originating from Pakistan.
In May 2017, 20 kilogrammes of contraband was seized from a London-bound flight of the national carrier.
The drugs were found by the Pakistan International Airlines' vigilance team concealed in catering galley of PK-785.
Although the plane was cleared to fly to London, the smuggler remained unidentified.
Prior to that, heroin concealed in packets was seized from a PIA flight in an intelligence-based operation carried out by the United Kingdom's National Crime Agency at London's Heathrow Airport.
Customs officials who investigated the discovery of narcotics, seized in London, believed the heroin was hidden in the plane while it was in Karachi on.