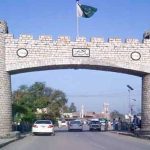 KARACHI: A seven-member special team of Pakistan International Airlines (PIA) on Monday has inspected the plane crash site.
According to details, the team will estimate the cost of loss and prepared report of the mishap. Damages to the nearby buildings and houses will also be examined.
Officials of Civil Aviation Authority (CAA) and local administration were also present on the occasion.
Moreover, final report will be presented to federal government.
On May 22, at least 97 were killed and dozens others wounded after a PIA plane crashed with nearly 100 people on board in Karachi, according to Spokesperson for the Sindh Health Department.
PIA plane was close to landing when it came down among houses, sparking an explosion and killing several people on the ground.
The flight PK-8303 took off from Lahore Allama Iqbal International Airport and crashed in Model Colony area in Malir, approximately 4 kilometers away from the airport.
The crash occurred just days after the country began allowing commercial flights to resume after planes were grounded during a lockdown over the coronavirus pandemic.