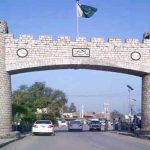 MAKKAH: More than two million pilgrims from around the world have converged in Mina to perform the main ritual of Hajj on Monday.
The pilgrims will move to Arafat today, where they will listen to a sermon delivered at Namira Mosque. They will then perform Zuhr and Asr prayers combined.
The pilgrims will spend time in Arafat with prayers for acceptance of their pilgrimage and recitation of Quranic verses until sunset.
After sunset, they will head to Muzdalifah, where they will stay until midnight, engaged in prayers after performing Maghreb and Isha prayers combined.
The ritual of changing Ghilaf-e-Kaaba was also held early Monday morning.
The new Ghilaf has been prepared at a cost of 200,000 Riyal. It comprises 670kg pure silk, 120kg gold and 100kg silver.
Imam Masjid-ul-Haram Dr Abd ur Rahman Assudais and Governor Makkah Khalid Faisal participated in the ritual.
Every Muslim is required to complete the Hajj journey to Islam's holiest sites at least once in their lifetime if they are healthy enough and have the means to do so.
Tens of thousands of security personnel have been deployed for the pilgrimage, which was struck by its worst-ever disaster three years ago when around 2,300 worshippers were crushed to death in a stampede.
This year, the Saudis have launched a "smart Hajj" initiative, with apps to help pilgrims with everything from travel plans to medical care.
The interior ministry said on Saturday that the number of pilgrims arriving in Makkah had already surpassed the two million mark, mostly from abroad including large contingents from Egypt, India, Pakistan and Bangladesh.