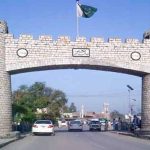 QUETTA: Following recent wave of drive-by shootings, target killings, and other acts of terrorism in the provincial capital, the government of Balochistan Sunday night outlawed motorcycle pillion riding in Quetta for a week.
Balochistan Home Department, in a notification issued, said that the ban follows the imposition of Section 144 of Pakistan Penal Code (PPC).
According to the notification, the measure has been taken over security concerns.
Section 144 says: Whoever, being armed with any deadly weapon, or with anything which, used as a weapon of offence, is likely to cause death, is a member of an unlawful assembly/shall be punished with imprisonment of either description for a term which may extend to two years, or with fine, or with both.
Earlier, gunmen killed five people after storming two tea shops belonging to the Hazara Shiite Muslim community in Pakistan's southwestern city of Quetta on Sunday, police said.
"Two gunmen, one each, stormed two tea shops belonging to the Shiite (ethnic minority) Hazara community in the Meezan Chowk neighbourhood of the city and started indiscriminate firing," local police official Muhammad Tariq told AFP.
Abdul Razzaq Cheema, city police chief, confirmed the incident and said the attack was sectarian in nature.
"The assailants fled on a motorbike after spraying bullets in the tea shops, police are searching for the suspects," he said.
Later, around 500 people from the community took to the streets in protest against the incident carrying the coffins of the deceased and refusing to bury them.
About 500 protestors placed the coffins of the victims on the road and chanted slogans against the government for failing to protect them.
"We are facing a genocide and the government makes only empty promises instead of providing protection," Husnain Ali, a protestor in his early 20s, said.
He said he would sit on the road with the dead bodies until the perpetrators are arrested.
Sectarian violence — in particular by Sunni hardliners against Shiites, who make up roughly 20 percent of Pakistan's 200 million people — has claimed thousands of lives in the country over the past decade.
In the latest bloodshed, 45 Shiite Ismaili were massacred in the southern city of Karachi in May in the first attack in the country claimed by the Islamic State group. (Agencies)