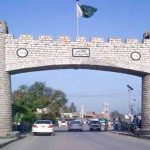 LAHORE: A petition on Monday has been submitted in Lahore High Court (LHC) to execute suspect Imran Ali, who raped and murdered seven-year-old Zainab, in public.
Advocate Ishtiaq Chaudhry filed the plea, stating that there is a need to amend the law to hang the suspect in public as per section 22.
Imran should be executed at the same place where minor's body was recovered, he added.
Earlier on Saturday, an anti-terrorism court (ATC) had handed over four counts of death penalty to accused Imran Ali in seven-year-old Zainab's rape and murder case. The verdict was announced by ATC judge Sajjad Ahmed at Kot Lakhpat Jail.
Imran was handed four separate death sentences after being convicted of the rape and murder of Zainab, as well as terrorism charges, prosecutor general of Punjab province Ihtesham Qadir said after a special anti-terrorism court passed its judgement.
The prosecutors said he received further life imprisonment and fines totalling 3.2 million rupees ($30,000) for additional charges of hiding his victim s body. The suspect can file an appeal against the decision within 15 days, he added.
One million rupees of the fine would be given in compensation to Zainab's family, public prosecutor Abdul Rauf Wattoo said.
Seven-year-old Zainab went missing on January 4 on her way back to home from maternal aunt's house. On January 8, her body was found in a garbage dump in the city of Kasur.
Zainab had marks of torture on nose, neck, and other parts of the body and was raped before murder, revealed medical report.
The guardians complained upon return from Umrah that the police did not cooperate with the relatives, who were looking for the missing minor.