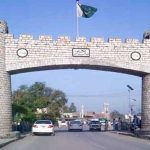 ISLAMABAD: Prime Minister Shahid Khaqan Abbasi accepted the resignation of Federal Law Minister Zahid Hamid on Monday.
Hamid voluntarily stepped down from his position late on Sunday.
The decision comes in the wake of the protests that continue across the country, following Saturday's crackdown by the police and paramilitary personnel on Islamabad sit-in staged by a religious group.
"I was not directly responsible for the introduction of the controversial amendment to the Finality of Prophethood declaration for electoral candidates," said Hamid.
"In order to restore peace in the country, I have decided to step down from my position."
Earlier on Sunday, Zahid Hamid called on Chief Minister Punjab Shehbaz Sharif in Lahore and shared views with him on the present situation of the country.
The meeting was expected to be a significant one since the Punjab CM is believed to be playing an active role in bringing the ongoing situation under control.
Protests held in Sindh, Punjab and Khyber Pakhtunkhwa have resulted in at least one death and left dozens injured, besides the 250 injuries reported in Islamabad.