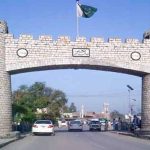 RAWALPINDI: Prime Minister (PM) Shahid Khaqan Abbasi and Chief of the Army Staff (COAS) General Qamar Javed Bajwa paid a joint visit to Chirat on Thursday and laid wreath at martyrs' monument.
Media cell of the military, Inter-Services Public Relations (ISPR) reported that the two leaders met with Special Service Group (SSG) commandos during their visit and lauded the sacrifices rendered by the armed wing.
They were briefed over capabilities, organisation and performance of SSG. Commandos conducted a mock exercise to demonstrate the operations.
The premier lauded sacrifices of the wing in war on terror and defence of the country.
SSG is a regiment-sized unit headquartered in Tarbela Cantonment.