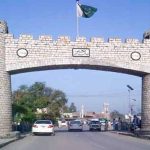 ISLAMABAD: Prime Minister (PM) Shahid Khaqan Abbasi has on Thursday called on former prime minister Nawaz Sharif here in Islamabad.
According to media reports, the entire political situation of the country was discussed during the meeting.
Both the leaders also took stock of party matters.
The reports added that Nawaz Sharif advised Khaqan Abbasi not to impose new taxes in the new budget and give relief to the nation.
The meeting took place ahead of Pakistan Muslim League-Nawaz's (PML-N) session which is underway with Nawaz Sharif in the chair.