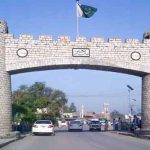 PESHAWAR: Prime Minister Shahid Khaqan Abbasi here Wednesday inaugurated state-of-the-art expansion and up-gradation of the Bacha Khan International Airport (BKIA) that would provide quality air travelling facilities to more than 3.5 million passengers per year.
The prime minister formally unveiled the plaque of the expansion and up-gradation of BKIA (Phase I) during an impressive ceremony here in the premises of BKIA.
Governor Khyber Pakhtunkhwa, Engr Iqbal Zafar Jhagra, Advisor to the Prime Minister on Aviation, Sardar Mehtab Ahmed Khan, Deputy Speaker National Assembly, Murtaza Javed Abbasi, Secretary Aviation, Dr Ejaz Munir and high ranking officers of Civil Aviation Authority (CAA) were present on the occasion.
In his comprehensive address, the prime minister said the government had brought revolution in aviation sector by completing scores of mega airports projects including BKIA and Islamabad International Airport that would provide quality travelling facilities to the passengers.
After inauguration of BKIA, he said, the airport would easily handle the load of around 3.5 million passengers per year against only 1.5 million before the inauguration of the phase-I.
The overseas Pakistanis, especially to Khyber Pakhtunkhwa and FATA, would largely benefit from this gigantic project and they would not go to Islamabad and Lahore for air travelling purpose now onward.
The prime minister said the Government despite difficult challenges had successfully completed the world class Islamabad International Airport besides upgrading and expanding Faisalabad, Multan and Sialkot airports, which reflected the PML-N government's deep commitment towards strengthening the country's aviation sector.
The prime minister said airports played key role in economic development and prosperity of people and underscored the need for more vibrant and active role of Civil Aviation Authority in terms of planning of future projects, speedy completion of ongoing projects and provision of enhanced facilities to the passengers.
He said up-gradation and renovation work on Quetta International Airport had almost been completed and would be inaugurated in a week that would provide quality services to the people of Balochistan.
The prime minister said the Government had expedited up-gradation and expansion work on Lahore International Airport that would be completed at an estimated cost of $500 million.
The prime minister said transport and communication sector had achieved tremendous boost during PML-N government's tenure and a network of motorways and highways were established that would further expedite pace of economic development and promote industrialization and business besides bringing direct foreign investment to the country.
He said work on the 1700 km motorways was in progress in the country that signified PML-N government's deep commitment towards promotion of transport and communication sectors.
Shahid Khaqan Abbasi said democracy was best solution to all existing problems and if this process continued all the issues related to economy and infrastructure would be addressed.
The prime minister said the government had successfully addressed the long inherited issue of energy crisis by increasing gas network and had achieved 6pc growth besides lowering inflation.
He said no country could make progress without strong tax system and urged people to take full advantage of the government's tax reforms and incentives imperative by paying taxes for progress and development of the country.
Earlier, Director Planning and Development CAA, Nadir Shafi apprised the Prime Minister about salient features of the project and facilities provided to the passengers at BKIA.
He said BKIA was built in 1927 in Peshawar being sixth populated city of Pakistan and its expansion and up-gradation was a great demand of people of KP and FATA that was fulfilled by the PML-N Government.
He said Phase-I of BKIA was completed in a short period of two years and the first PIA flight departed today. In addition to state-of-the-art new terminal, passengers seats, immigration counters, boarding lodges were increased to facilitate passengers.