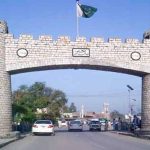 ISLAMABAD: Prime Minister (PM) Shahid Khaqan Abbasi has inaugurated state of the art new Islamabad International Airport here in the capital city on Tuesday morning.
On the occasion, the Prime Minister was accompanied by the Governors Khyber Pakhtunkhwa and Punjab, Minister for Information & Broadcasting, Adviser Civil Aviation Sardar Mehtab Ahmad Khan and Mayor Islamabad Sheikh Ansar Aziz.
According to Civil Aviation Authority, first incoming flight of Pakistan International Airlines will come from Karachi while first flight of the national airline will depart for Karachi at 12.30 p.m.
New Islamabad International Airport spans over an area of 4238 acres of land, and it is the first green field airport of the country.
The airport is equipped with latest technology and best services for the passengers.
It has a passenger friendly terminal, two runways, three taxiways and a cargo apron which can accommodate large and small aircrafts.
The airport has a modular design which enables it to handle nine million passengers and 50,000 metric tons of cargo initially.