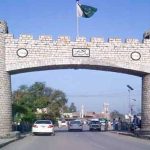 LAHORE: Prime Minister Shahid Khaqan Abbasi arrived in Lahore Monday morning where he was received by Chief Minister Punjab Shahbaz Sharif.
The Prime Minister called on former premier and Pakistan Muslim League-N (PML-N) president Nawaz Sharif.
Following his arrival at the airport, the premier departed for Jati Umra along with Shahbaz on a helicopter to hold meeting with Nawaz Sharif.
Discussion on the country's political situation, party affairs and strategy for the upcoming elections, among other issues will be discussed in the meeting.